Home > Speakers

External LED Speaker Ring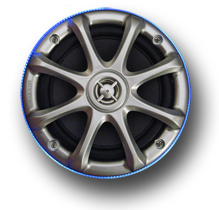 The External LED Speaker Bezel is illuminated through a series of LEDs housed inside an optical bezel. Light is refracted through etching and channels, providing an even glow around the speaker.

This fits most 6", 9" and 11" speakers. The outer bezel extends 1/8" from the furthest edge of the speaker. The bezel is manufactured from durable acrylics with no sharp edges, and is tapered for an even fit.

The External LED Speaker Bezel connects to the boat's electrical system through an internal harness. The inner circular ridge guarantees a secure fit and easy installation, no matter the speaker design or the number of screws attaching it.

Because LEDs produce very little heat and use a low amount of electricity, these speaker bezels are an energy effecient, environmentally friendly and cost-effective way to add attractive lighting to a boat's interior.

The External LED Speaker Bezel is available in a variety of colors.